Back in the good old days, before Geegeez Gold came into our world, this website was a home to betting system reviews and betting systems. Such approaches are considered terribly out of fashion at the moment, usurped by ten-a-penny tipsters and the occasional genuine advisory service.
This article is the first in a serialization of a thread in the Gold forum dedicated to the development of a betting system. It is a collaborative tale, spanning more than 800 posts (!), a few of which are offered for your consideration.
The purpose, aside from showcasing one of the less well known elements of the Gold provision (Gold users, you do visit the forum, don't you?!), is to invite readers to think outside of the normal top of the market 'gimme a winner' framework, and instead to go panning for, erm, gold elsewhere.
A post from the weekend looked like this: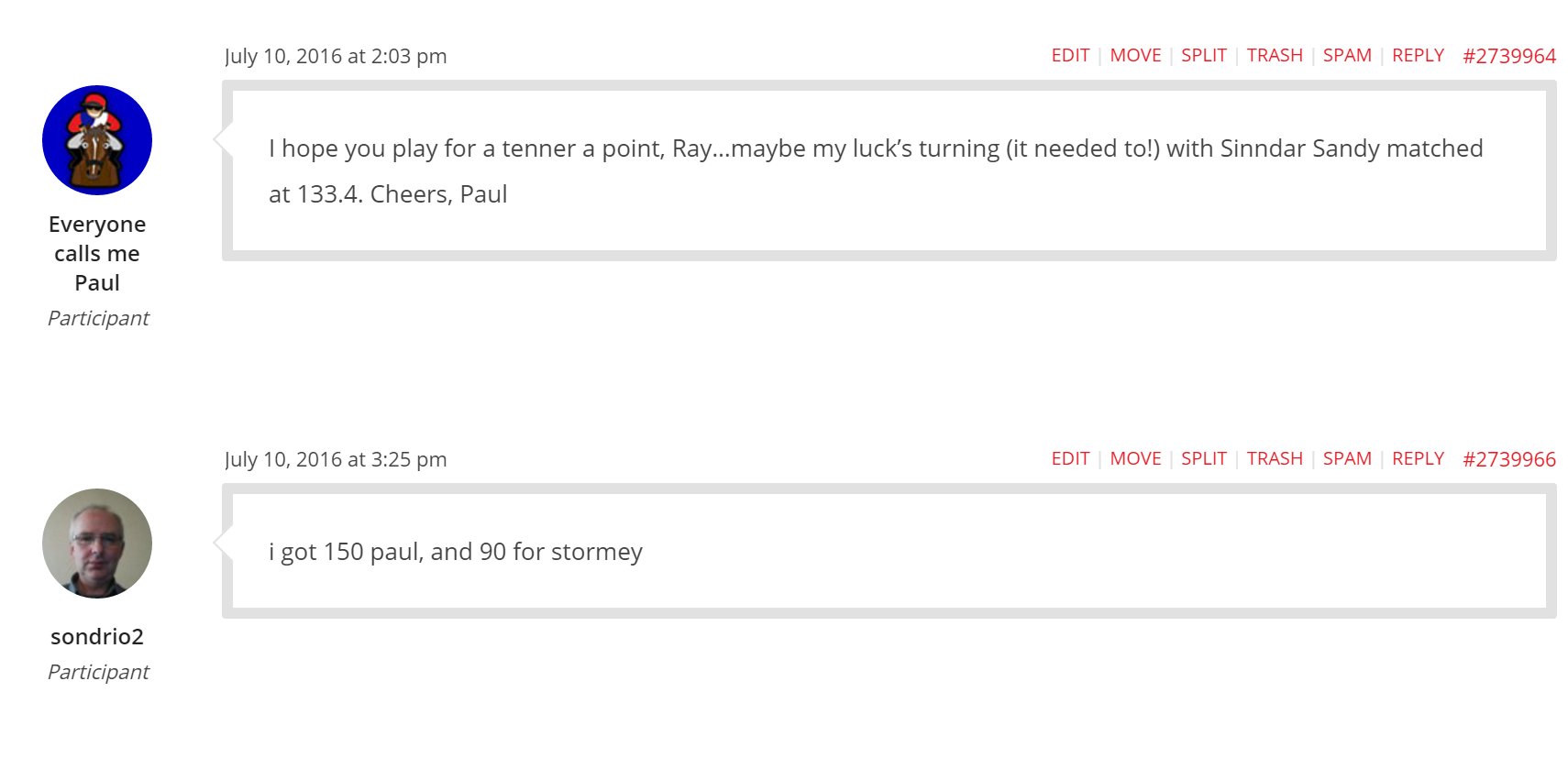 **
But there's where the team is at now… THIS is how it all started, a year ago almost to the day. This was Ray's introduction, posted by me…
July 21, 2015 at 10:37 am
Matt Bisogno
SINISTER HORSES FOR SINISTER COURSES (A gift from Gold user, MONDO RAY, for my GG buddies on my 70th Birthday, 22 July)
Hi, my name is Ray Thompson, nicknamed Mondo because my idiot but loveable employees back in my shop-owning days refused to believe that the Thompson boys' FULL given names were Ken, Eddie and Ray. No middle names, no lah-de-dah names, no extras whatsoever. Simples.
You may remember me from classics like "The Tortoise And The Hare" and "Placed To Win". The first was a free (and profitable) Geegeez tipping service which evolved into the second, an improved but fee-paying service. Placed To Win was short-lived even though it was profit-making. The reason? I may have a degree in psychology, but I'd not factored in how many people don't care about the occasional winners at 20/1, 25/1, 33/1 and 50/1+, they'd rather have a winner NOW, even if it's odds-on!
I'd explained to Matt back in the day precisely how my system worked and he was so impressed with it that he agreed to publish it. The name Placed To Win was Matt's suggestion, as there was also clear profit to be made by the many more placers than winners given, all at a minimum 5 on Betfair.
Hey, I'm just rabbiting on here. What I'd like to do for my birthday is give y'all some of the Essential Things You Should Know in the betting game. I don't want your money, This is a big thank-you to Matt & Chris for their encouragement and help, their ability to give people faith in themselves, without condescension or beating around the bush (er… is that even legal these days?). As I'm sure you all know, Geegeez is the best thing that's happened in this field for …ummm… donkeys years!?
Some of you will say I'm stating the bleedin' obvious at some of these steps, but bear with me and I think you just might be surprised at what you've missed, what's hiding in plain sight. Actually, I will start with the bleedin' obvious: you want to make money. I want to make money. You want to make BIG money and you're prepared to find your own system and improve it as you progress. So, whether that means following media tipsters, buying tips or systems from professionals or inventing your OWN system/method, then I want to help you.
My own system took a long time – many years of trial and error (and terror!) – to work satisfactorily, and here's a thing: it keeps getting better! So, first rule – KEEP ACCURATE RECORDS. As Matt knows from some photos I once sent him, I started scribbling things down in a schoolbook type thing from around the mid-90s until I realised it was pointless. So I bought some sturdy hardback red 'n' blacks (they're not expensive) and kept every single bet, one per line, with the date, the venue code (similar to airport codes, 3 letters per track, eg Ain, Asc, Ayr, Ban, Crl, Crt, Cat, Chl, Chp – you get the drift, found on every form page in the RP's online service. All my record keeping is done online now of course.
Okay: Date, Course, Race Time, Selection, Industry price, Betfair price, Betfair place, result (again ISP), and BfSP Win after commission. A page one entry 5th Jan 2011 (first winner of that year) reads:
5th Sth 1440 Bromhead 12/1, 19.6, 6. W11/2 +£93.60 (to my £5 stake post(5%)-commission)
That's a start. I quickly learned that I also needed to record GOING, CLASS, TRIP and possibly one of the most important things you'll ever learn about picking winners. Ever noticed that when a nailed-on favourite that no tipster or punter can see beyond gets turned over, the shock waves resonate throughout Horseracingland? Tearful telly pundits go into meltdown and yes, even some trainers wonder wtf just happened. A Day Of Mourning is called and the talking heads have an emotional field day.
Well, I know why a large percentage get beat, and it's to do with the horses mentioned at the top of this piece. Not those sinister horses of the Apocalypse. We know their jockeys are called Conquest, War, Famine and Death. But the horses themselves are more prosaically referred to as White, Red, Black and Pale (or in the Pagan/Christian mashup, Dasher, Dancer, Prancer and Vixen). The Sinister, and their opposites, the Dexter are simply, like most animals, the left- or right-handed. And just a few are ambidextrous.
Lefties perform better and tend to win at left-handed tracks, righties perform better and… you get the gist.
So here's the big (not so-) secret to improving your choices/selections: Make a note of whether the track is LH or RH before you select your contender, making sure that your choice is not only au fait with the distance, the class, the going, the jockey, the trainer, and the whatever other requirements you er, require, but also, and VERY importantly, it's at a course that fits your pick's predilection in running.
During the last year and especially in the Jumps doldrums known as "summer" I've begun studying flat and all-weather systems, with a view to developing something equally profitable for the non-jumps season rather than wasting my time drinking cider and bourbon while topping up my tan on the sun-drenched beaches here in Cornwall while applauding the barely-clothed fillies who … erm, I'll pause there. I'm also prepared to give freely of my jumps system picks along with brief reasons for the choices for the few Summer jump meetings until the NH season proper returns in the Autumn.
Do remember to bet sensibly and, mainly, have fun!
Mondo Ray
July 21, 2015 at 11:47 pm
fetlock55
Couldn't agree more about L/H – R/H preferences. To which i'd add Galloping or undulating, particularly relevant when the former doesn't come in to play (on a straight track!)
July 23, 2015 at 10:06 am
Ray Thompson
Sorry about the delay, a little thing called my 70th which included meeting and greeting friends and relatives and some particularly powerful (8.2%ABV) cider all kinda kept me busy until a necessary early night was upon me. So, for the moment, here are MY system selections for today, both at my best-performing summer venue, Worcester. Eight of the 10 system wins here (at BSP: 32, 40, 14, 21, 50, 22, 32 and 19) were in May, June and July, the other two both in Sept (15 & 60). The other jumps meet is at Limerick, a terrific winning track for me but NEVER had a winner in the Summer.
Wor 2.40 My Nosy Rosy ISP 20/1, BSP 32 or take SP at race off, 5.7 BSP
place. This is a chase, and the system is currently 22 points in profit chasing here. (£110 to my fiver stakes, personally I'm only doing win win bets this year, but placers are always profitable too)
Wor 4.55 In The Crowd 25/1, 50(orSP), 6. Hurdles at Wor (as this race is) are showing a profit of 122 pts (£610 to my fiver)
Have fun with these, get on early if you can and BOG if you don't have a Betfair account yet. Meanwhile, I've got an old flat handicap system to show you which I'll use to show you the flaws in hastily thought-out methods of betting. I'll be back with that mid-afternoon after my morning stroll.
Enjoy!
Everyone calls me Paul
Cheers Ray. I'm already on Stafford Charlie in the 2.40, so gonna give that race a miss, but I've had a small go at the Worcester race (e/w), even though I also have a selection (Wak a Turtle) in that one…but only in a win L15.
Good luck and thanks for your insights. I'll post in the forum to let everyone know you're "live" here.
Paul
Ray Thompson
What is wrong with this picture?
Below is a "sample of handicap winners" recorded on continuous days of flat turf racing until the 100 was reached, divided into weights – A being top weight in the race it has won, . The largest field was 29 runners, the smallest 6, with the "vast" majority having 10 plus runners. Identical weights are alphabetically listed on the card, and are thus here depicted. Overweight and apprentice allowances are ignored.
Survey of 100 Flat Handicaps
A 4-1 6-1 7-1 8-1 10-1 16-1
B 9-4 4-1 11-2 7-1
C 5-2 5-1 13-2 13-2 7-1 15-2 10-1 12-1 12-1 16-1
D 6-4 100-30 4-1 9-2 9-2 5-1 6-1 6-1 6-1 13-2 13-2 10-1 12-1 12-1 12-1 14-1
E 3-1 9-2 6-1 13-2 7-1 12-1 14-1
F 6-4 9-2 9-2 11-2 9-1 12-1 16-1
G 13-8 7-1 14-1
H 5-2 3-1 4-1 6-1 11-1 16-1
I 5-2 11-4 5-1 9-1 25-1
J 6-1 7-1 14-1
K 4-1 5-1 13-2 10-1 14-1 16-1 25-1
L 11-2 14-1 33-1
M 2-1 7-1 10-1 11-1 16-1 16-1 20-1
N 11-2 15-2
O 6-1 13-2 12-1 20-1 20-1 20-1 33-1
P 8-1
Q 15-8 3-1 7-1
R 11-2
U 16/1
W 12/1
STVYXZ – no runners
The "system" derived from the above states that those showing "big price" winners are anomalous. Which to me appears to suggest that if we ignore them they'll probably go away. Also, "There is a very good reason why the top two positions have done relatively badly." Apparently, this is because the handicapper never forgets and tends to come down hard on any horse showing an exceptional run of form or wins an exceptional race. Hmm, fascinating, ain't it?
40% of the winners fall in the C to F inclusive band and is therefore the bookies vulnerable point. Really?
This goes on with the following table of prices of winners:
Up to 2-1 5 winners
9-4 to 4-1 14 "
9-2 to 15-2 39 "
8-1 to 10-1 9 "
11-1 to 14-1 17 "
16-1 to 20-1 12 "
22-1 + 4 winners
Therefore, derived solely from SP, the SR is 48% from the 9-2 to 10-1, so this "should be the focus of the punter's attack."
My dear fellow GG-ers, your mission should you choose to accept it is to tell me what is right or wrong with this (old, but not as old as me ? ) system, ready for my perusal when I return to Geegeedom on the morrow.
Cheers, guys, and yes, I'll be giving you MY take on it.
July 23, 2015 at 10:40 pm
Everyone calls me Paul
Hi Ray,
I'm no expert (and certainly no systems man), but the obvious flaws in the analysis – helped by your hints with the inverted commas – would seem to relate to the fact that there is no specific breakdown of number of entries, leaving a potential bias against the runners / letters in the latter half of the alphabet, and the belief that we're not supposed to like big priced winners! Don't know where they're going with the price range.
Other than that, please tell us, mate.
Paul
NB my system is to back the 15th heaviest horse ("o") where applicable…124.5 points minimum returned from a maximum – and realistically much lower – 100 points bet. Easy money haha 😉
Tigris
My take is in the groups C to F there are more winners, however am i missing something? But would there not be more loosers in this range therefore yes more winners but, with so many loosers in C to F then this would reduce profit and roi. Yes nice to get the winners but i think i would have to back a lot of loosers to get a winner.
In which case i would be paying the bookies!
July 24, 2015 at 12:19 pm
Ray Thompson
Thanks for your replies, with which I totally agree.
My first response on reading this system was that 100 consecutive results is nowhere near a meaningful sample! Then, because I tend to concentrate on outsiders, I noticed that from the 40 in the given range, eleven of them (27% of the 40) are priced at 12/1 to 16/1 incl. Now THAT'S an angle worth looking more closely at! Furthermore, 33 of the 100 races were won by 11/1 to 33/1 shots. That, too, is pretty interesting. Another weird (sinister?) thing that I find really hard to accept is the contention that there are NO odds-on shots in 100 winners. Not that the latter fazes me at all, because I'm not really too interested in the bottom half of the spectrum anyway.
As Tigris said, so many losers with that C to F range, and I would reckon that the majority of the field of each race would also be in the 9/2 to 10/1 range, so that leaves us searching for a filter (or filters) to detect a possible winner.
Anyhoo, I'm going to replicate, actually no, I'm going to do a much larger sample than the one we've discussed, and from a much more up-to-date year. In fact – with a view to studying a whole year of actual results – I'm thinking 2014 and I'll start at 1st January of course. I'll come back to you all when I've finished, which might not be today because I have my Friday club this afternoon (A nerds discussion group where we put the world to rights over a pint or three. Members are required to bring to the group a trivia fact every week that none of the rest have heard before. and yes, we all ALL ardent quizzers!)
Back tomorrow with an update. Live long and prosper, as that nice Spock guy used to say.
Ray Thompson
Good afternoon, here for your perusal and comparison are the first 100 results (excluding a dead heat) of last year.
Turf Flat Handicaps 2014
1. 5/4 5/2 5/2 11/4 11/4 3/1 4/1 9/2 9/2 9/1
2. Evs 6/4 7/4 15/8 9/4 9/4 3/1 3/1 4/1 9/2 6/1 10/1
3. Evs 6/4 7/4 7/2 5/1 6/1 10/1 11/1 11/1 12/1 16/1 20/1
4. 3/1 3/1 5/2 9/2 8/1 12/1 25/1 25/1
5. 13/8 3/1 5/1 6/1 7/1 12/1 33/1
6. 3/1 7/2 4/1 4/1 9/2 6/1 7/1 7/1 8/1 14/1 16/1 20/1
7. 2/1 9/4 5/2 9/2 10/1
8. 7/2 9/2 5/1 5/1 5/1 10/1 11/1 14/1 14/1 16/1 16/1
9. 9/4 5/2 3/1 6/1 8/1 12/1 20/1 20/1 33/1
10. 7/2 12/1
11. 13/8 11/4 9/2 7/1 16/1
12. 7/1 8/1 20/1 25/1
13.
14.
15.
16. 7/1 12/1
17.
18.
19.
20.
21.
22.
23. 12/1
Now, I see huge differences from the old system 100 I showed you earlier.
My reason for wanting to compare the two is that clearly, if we're to build our own system from scratch, we're gonna need a bigger boat (metaphorically speaking of course!), a helluva lot more information, facts, stats, filters and so on before we can – to continue the metaphor – launch an unsinkable system that will make us a lot of profit during the remainder of the summer. I bet there are a lot of specialist craftsmen (and women) in GGdom who are experts at (or in) those facts and maths areas of expertise, people who can find things, others who'll put them together, seers who will predict from the amassed information the possible pitfalls, windfalls and pratfalls, as well as serendipity seekers, opportunity observers, dowsers, speculators, folks who know a good thing when they see it!
Not a lot to ask, is it? 🙂
Tigris
Ray, don't quite follow this table what does 1 to 23 mean, cannot be months? as there would be 12, perhaps just being thick, but not clear how to read this table?
Ray Thompson
And we'll need this distribution to figure further percentages.
Up to 2/1 – 11 winners
9/4 to 4/1 – 28
9/2 to 15/2 – 24
8/1 to 10/1 – 9
11/1 to 14/1 – 13
16/1 to 20/1 – 10
22/1 plus – 5
Ray Thompson
Tigris: sorry buddy, this is to match the old system where 1 is top weight on the card, 2 is No.2 on the card etc., down to 23rd on the card. It would've helped had the original system given the number of runners in each race, but as it didn't, then I also left it out of my up-to-date copy of the old 'un.
I'm glad you brought that up, as it's yet another fault with the original that I can rectify with my newer figures. I'll do that this afternoon. Cheers!
Tigris
Got it, my take without putting all this in a spreadsheet, would be to focus on numbers 3 to 9 and bet on horses with prices of between 11/1 and 20/1, this would give most value and ROI, I think.
Tigris
Done a bit more research on Flat Handicaps in the range 2 to 10 weight, and odds 11/1 to 20/1, I discovered a system that has 1 to 2 selection per day and a sr 12%, so quite a few loosing runs, but with bigger prices, with a ROI of 90%, out of interest the system produced a selection tonight: 20:15, Salis, Upstaging, look forward to more of your wise words Ray.
July 27, 2015 at 12:16 pm
Ray Thompson
My reply yesterday seems to have disappeared! I'll try again! Tigris, almost there with Upstaging (2nd 8/1).
Field (Runners)
4. 5/2 12/1*
5. 1/1 5/2 3/1
6. 13/8 11/4 12/1*
7. 9/4 11/4 3/1
8. 7/4 9/4 5/2 10/3 7/2 9/2 5/1 6/1 6/1 16/1 16/1
9. 5/4 9/4 3/1 3/1 4/1 9/2 10/1 25/1
10. 1/1 2/1 5/2 3/1 3/1 9/2 9/2 9/2 5/1 6/1 14/1 20/1 33/1
11. 9/4 3/1 7/2 4/1 9/2 9/2 5/1 6/1 8/1 9/1 14/1 16/1 20/1 25/1 33/1
12. 13/8 15/8 3/1 7/2 5/1 6/1 7/1 10/1 12/1 14/1
13. 7/4 5/1 8/1 8/1 11/1 16/1
14. 4/1 7/1 7/1 11/1 20/1 25/1
15. 11/4 7/2 10/1 12/1
16. 9/2 6/1 9/1 12/1 20/1
17. 13/8 5/2 7/1 20/1
18. 7/1 11/1
19. 7/1
20. 4/1
22. 10/1
23. 8/1 12/1
*Rank outsider of race
Here are the wins by class and distance:
Class 1 Class 2 Class 3 Class 4 Class 5
5f 2 2* + 2 1* + 1 3
6f 2 1* + 2 1* + 3 1* + 1
7f 1 4 5 2* + 3 1* + 5
8f 1* 4 2* + 3 6
9f 2
10f 2 2* + 3 3* + 2 3* + 3
11f 2 1* 2
12f 1* 1* + 1 2 4
13f 1
14f 2 1
15f
16+ 1* + 1 1*
Tot 1 12 29 27 31
Coming up number of RUNNERS in Outsider Category.
Back soon.
July 27, 2015 at 12:25 pm
Ray Thompson
Ah poo! It clearly didn't like my easy-to-read spread and has just crunched them up into an undecipherable mess! Initially, it wouldn't take a grid with figures in, now it just squishes them all to the left! Ignore that class/distance attempt, then. That's only a couple of hours work I'll never get back.
Later!
Tigris
OK Ray, been doing a bit more research and a bit more refining and come up with Tigers Home for 1640 Ayr today. It's at 12/1 generally.
Been refining a few things and from your stats, could argue to focus on 8 to 12 runner races, and 5f to 8f could be a niche to explore.
sondrio2
tigris, you're on for a gold star mate, top of the class.
Tigris
Thanks sondrio2, i'll have another attempt today, been refining and triangluating systems so should be fun!
Gallou
I've figured it out, it's all to do with the word 'sinister'.
Left handed horses for left handed courses.
Job done! 🙂
July 28, 2015 at 12:05 pm
Tigris
Sinister in deed Gallou!
Have been exploring further Ray, and have been looking at systems based on odds and now have two systems running on different platforms, so the use different paramaters, but what I am attempting to do now us 'triangulate' the two systems and looking to see where they identify the sane runners.
System 1 today identified 5 runners and system 2 identified 6 runners.
Three runners were common to both systems, so the two that align with all parameters are:
1410 Bev Generous Dream
1620 Good Lady Gibralter
The next runner met all but the odds check but was so close had to unclude it:
1620 Good Perfect Muse
I would bet three singles to win and two ew doubles for value.
Look forward to your next installment Ray.
July 28, 2015 at 12:38 pm
Ray Thompson
Okay, here's the latest. I am a happy bunny. We have a system! Well, almost…
I began by looking at the possible returns from both ISP – Industry (bookies) Starting Price and BSP – Betfair SP if we bet £2 win on every horse in a flat turf handicap race that was 16/1+. Almost there, with 447 bets, that's an outlay of £894 (not all at once!) The returns were interesting with £596 ISP and £884 BSP returned, or -£298 and -£10 respectively
Now, as the winners were actually 16/1 to 33/1 and not bigger, and with no winners from the top two weights, what about not backing anything bigger than 33/1 and no contenders in the top two weights (1 & 2 on the card)? Well, that's removing 95 of the bets leaving 342 bets for the same returns! And that, my friends, gives us a 3-week PROFIT of £254 to ISP, or a staggering £542 on Betfair (after commission).
I now only need to run it quickly through the first 100 results for THIS year, for comparison, and on into the rest of the season so far. Personally, I'm also quite happy to start today with the wee £2 win bets, but you guys might prefer to paper-trade until I can get all updated since that first century this year.
In the words of the song, "I'm happy, hope you're happy too…"
****
Thus, at the end of part one, we have an embryonic system, albeit one based on a very small sample size.
In the next installment, the guys will further shape and refine their system as more information becomes available.
[Important note: don't be too quick to pre-judge this, until you've read the whole serial…]
Back tomorrow with Part 2.
0
0
4dm1n
https://previouslyon.geegeez.co.uk/wp-content/uploads/2020/05/previouslyon_geegeez_banner_640x100.png
4dm1n
2016-07-11 08:54:18
2020-05-13 17:03:22
Genesis of a Betting System (Part 1)